---
---
Work hard, travel harder is the motto for this wild new collaboration. Introducing our Liane V. x Impressions Vanity collection made for the traveler at heart, just like our jetsetting queen! We're so thrilled to have partnered with world renowned beauty influencer Liane V. Popularly known as a multi-threat musician, comedian, model, actress, dancer and above all a family-loving, jet setting, Filipino boss babe.
---
To execute her vision, Liane selected pieces that reflected her signature style which consisted of neutral colors, a unique crocodile pattern and plenty of glam. She asked, we made sure to deliver!
Get ready before your next adventure with the Liane V. SlayStation Bundle, a modern take on our classic SlayStation. The collection also includes 2 must-have travel essentials –– the Liane V. Cosmetic Case and the Liane V. Makeup Mirror.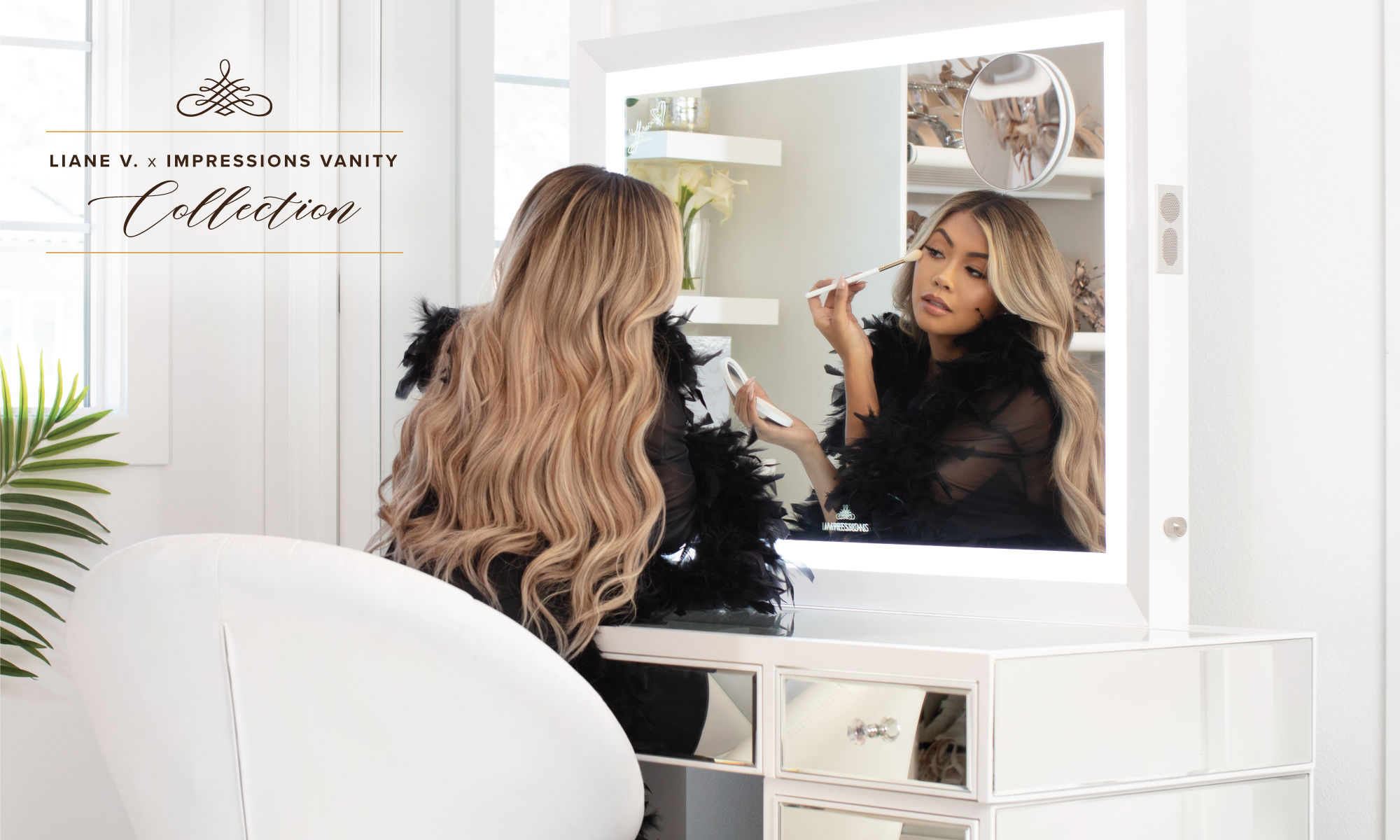 The full series contains the Liane V. SlayStation Premium Mirrored Vanity Table, Liane V. Vanity Mirror, Liane V. Cosmetic Case and Liane V. Makeup Mirror.
Got a case of wanderlust? Find the jetsetter in you with the Liane V. Touch Pad Mini Makeup Mirror, displaying a stylish crocodile print perfect for on the go. The super-slim, micro-USB rechargeable travel mirror is cordless and convenient for your next adventure. For consistent lighting with a dimmable LED strip light, this mirror provides all of your get-ready-glam needs. It comes with a stunning user-friendly folio cover to protect the quality mirror and to serve as a built-in stand. Available in white and beige.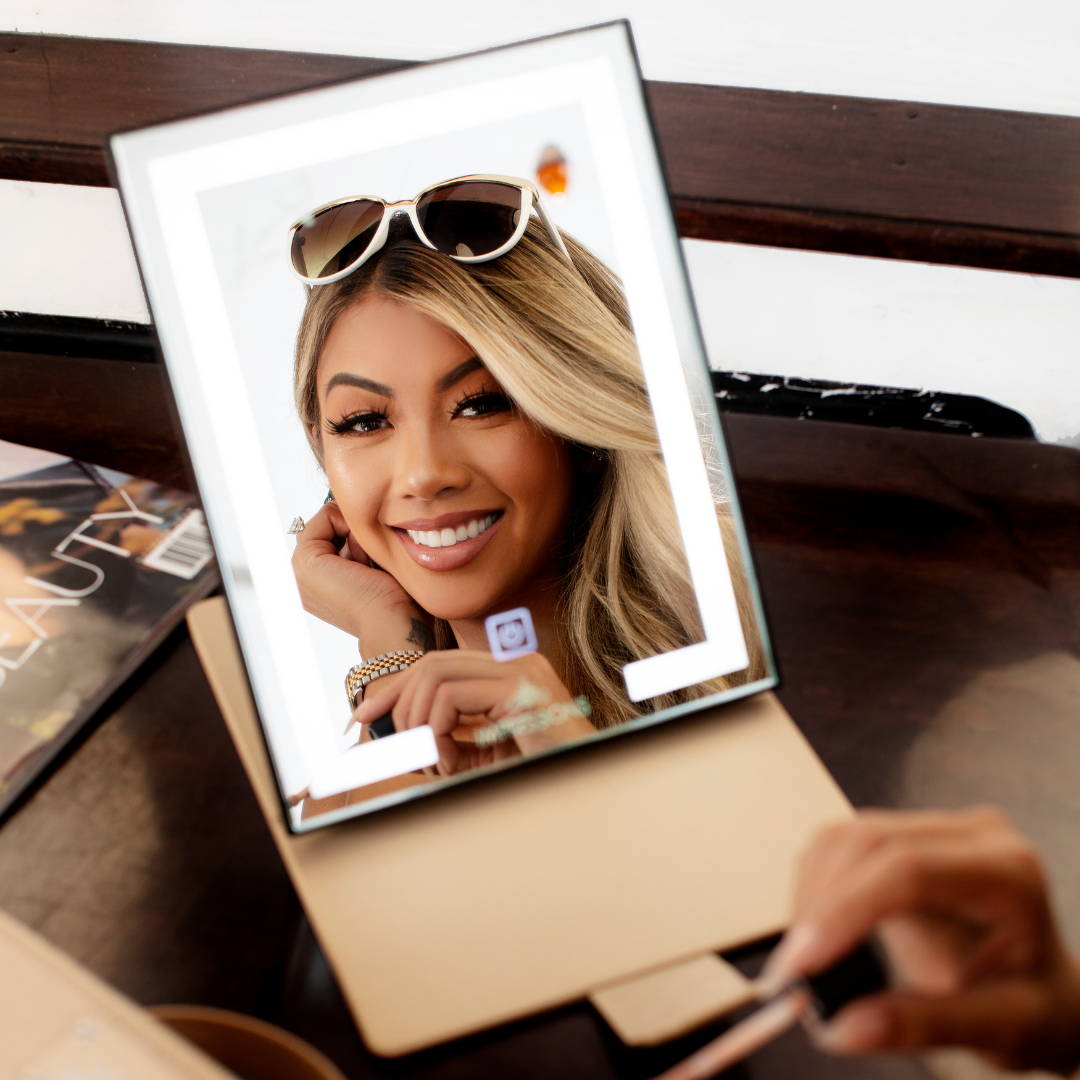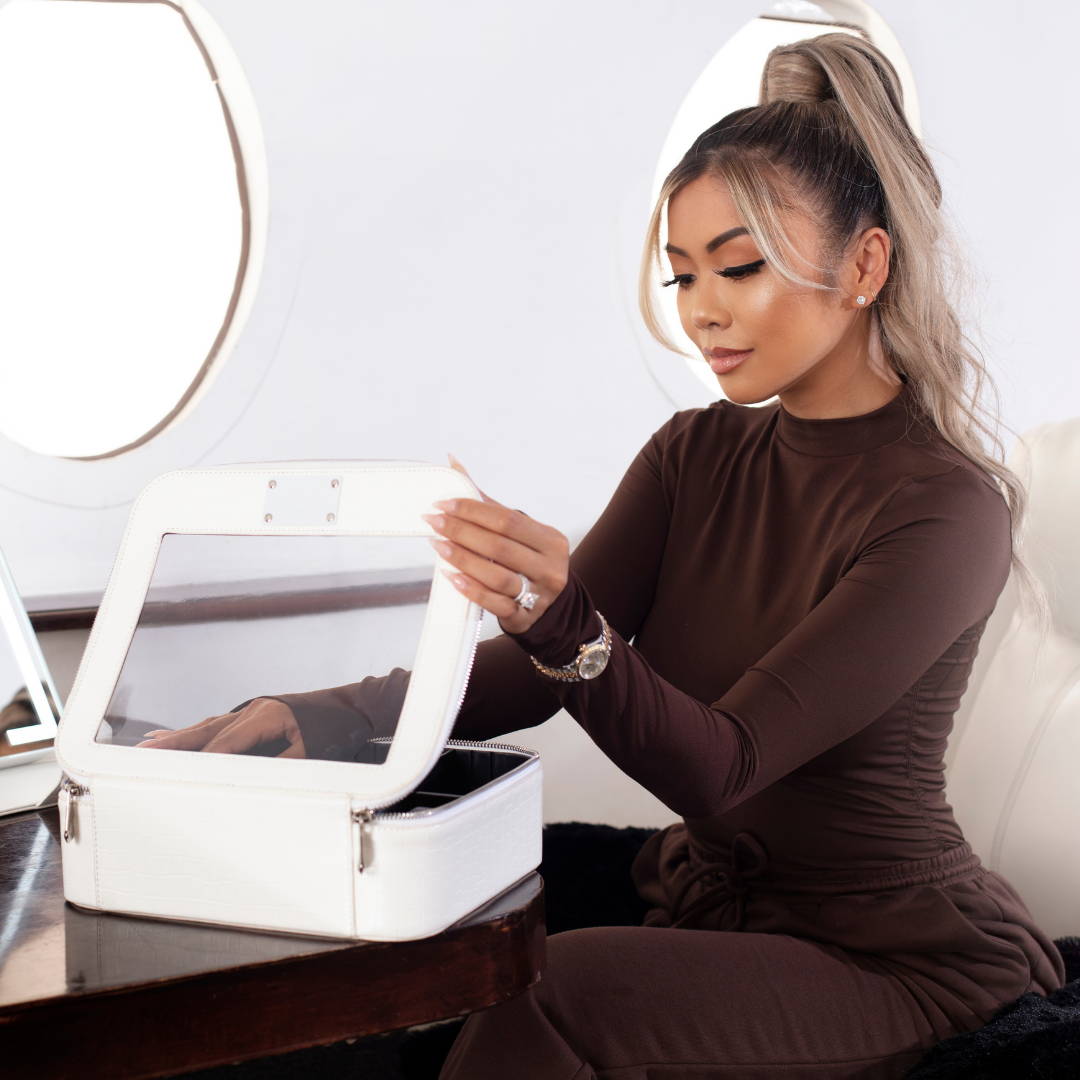 Step up your travel game with the Liane V. Cosmetic Case equipped with 6 adjustable compartments to store your must-have makeup favorites. A stunning silver zipper is displayed along the case with a transparent window to see your cherished products –– takes this already stylish cosmetic case to the next level! Comes in a refreshing crocodile pattern, in colors white and beige.
The limitless Liane V. Pro Vanity Mirror with Bluetooth Speakers includes a sleek LED strip light, a magnetic 3x magnification mirror, and bluetooth speakers. Play your favorite tunes to complete your get ready glam experience. This luxurious mirror is bordered by a light metal body frame, the modern vanity experience will change your glam room forever. Adjust your brightness to your liking with the included dimmer power switch and dual accessory power outlets.
Manifest this gorgeous Liane V. SlayStation Premium Mirrored Vanity Table in your future to complete your dream glam room. The dazzling Slaystation table features a fully mirrored table top and drawers highlighted with stunning crystal lux knobs. You'll fall in love with its secret drawer compartment and 18 preset dividers for extra storage. Featuring an edge-to-edge clear glass top to display your most cherished vanity accessories and makeup!
---
The Impressions Vanity team would like to thank Liane V., her team and everyone involved in creating this glamorous collection. For more details on the Liane V. x Impressions Vanity collection, and all other vanity essentials, visit us at www.ImpressionsVanity.com.
To stay up-to-date on the latest launches, make sure to stay tuned at The Vanity Blog and follow us @impressionsvanity.
---