---
7 BEST GIFTS FOR
7 TYPES OF GLAMOROUS GALS

---
Grab yourself a sparkling glass of bubbly and chocolate covered strawberries with your best girls.
Impressions Vanity can be your forever and always.
There are millions of ways to celebrate love with your loved ones. Cherish the exciting memories you'll be making this Valentine's Day.
From a girl's night in, to a spa day, to getting ready for that hot Valentine's date, to a gift for your girlfriends, or a gift for yourself, this guide will give you everything you need to make that lasting impression.
---
FOR THE GAL
WHO HAS EVERYTHING:
Give yourself something we're sure you have never laid your eyes on; with crystal clear panels and rose gold trim, you can't miss its flawless marble compartments.
The Savvy Makeup Travel Case will make your eyes sparkle and give yourself the perfect reason to pack your favorites. This will be the newest, shiniest addition to
your vast collection.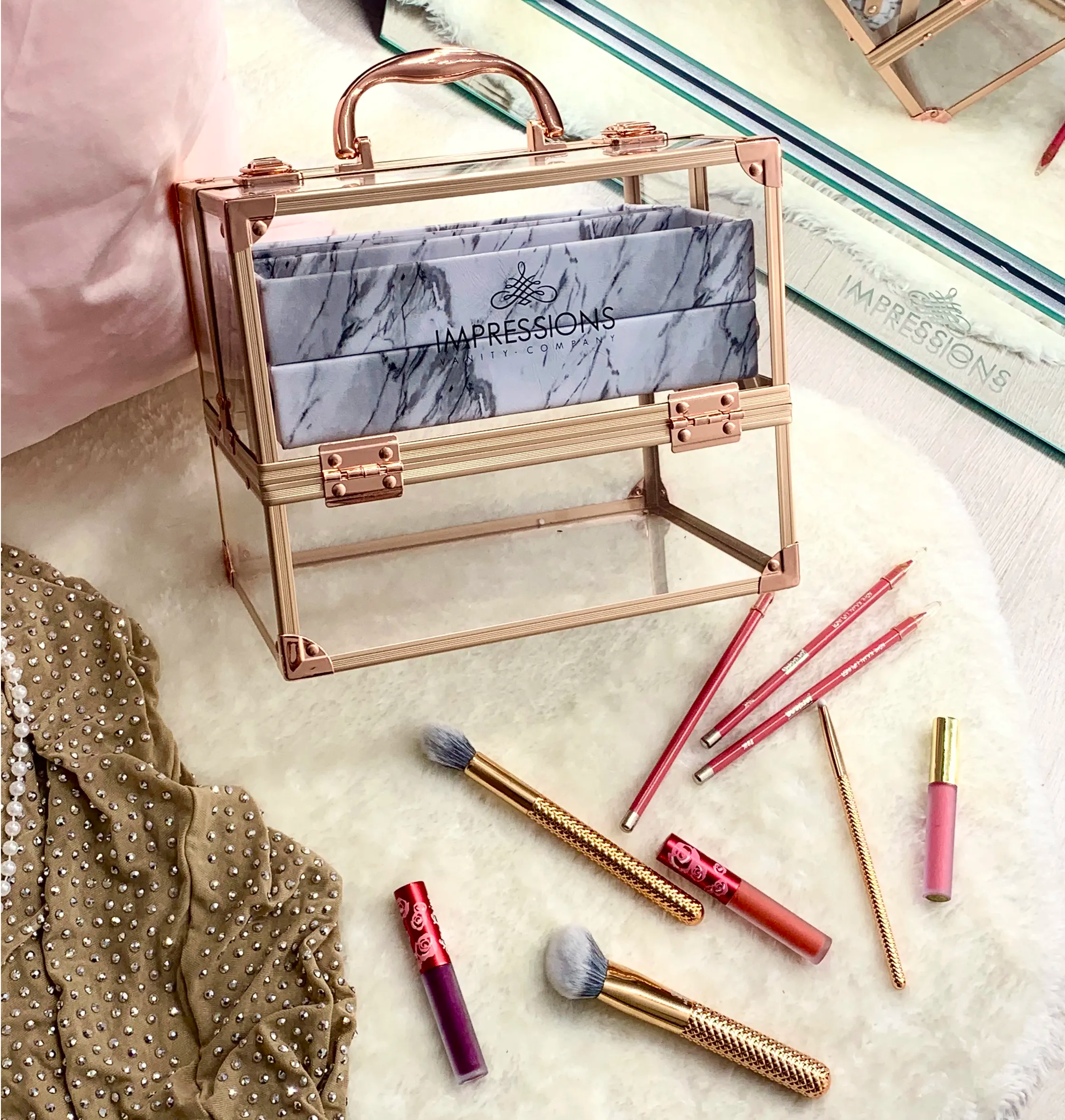 FOR THE GAL
WHO IS A MAKEUP LOVER:
Loving your makeup is loving yourself. All of your precious cosmetics will be cherished in the Slaycase Pro.
What better way to SLAY all day?
Serving up looks with the classic Hollywood style light bulbs, USB port, and stand legs.
On the go? Pack up and strut away with
your rolling vanity set.
For the Gal
Who is A Boss Babe:
Strut through the office for those back to back meetings. We admire the BOSS who's in charge! We know every boss lady needs her essentials to check her makeup or to get ready for that hot Valentine's Day date.
With a 360 degree turning and pivoting range, you can rotate this mirror to all the right angles while adjusting
the brightness.
Going out for a romantic weekend? Take the Royale Petit from your office to your getaway with its detaching ball joint and folding stem for easy storage!
For the Gal
Who is A Music Lover:
What better way to start your day than with some jams while you glam! Sing along to some Lizzo with the Melody,
know that you're 100% THAT queen with
the bluetooth dual speakers.
Be in touch with the music in your heart AND what lights your reflection, with three light settings: warm, cool, and natural.
For the One
Who is Home Decor OBSESSED:
In need of a home-makeover? Pour your heart and soul into the beautiful and cozy home that you deserve with the Reflection Full-Length.
Glam up your room and strike a pose with your sassy outfit-of-the-day before heading out the door.
Hey, home decor designer, this one's for you!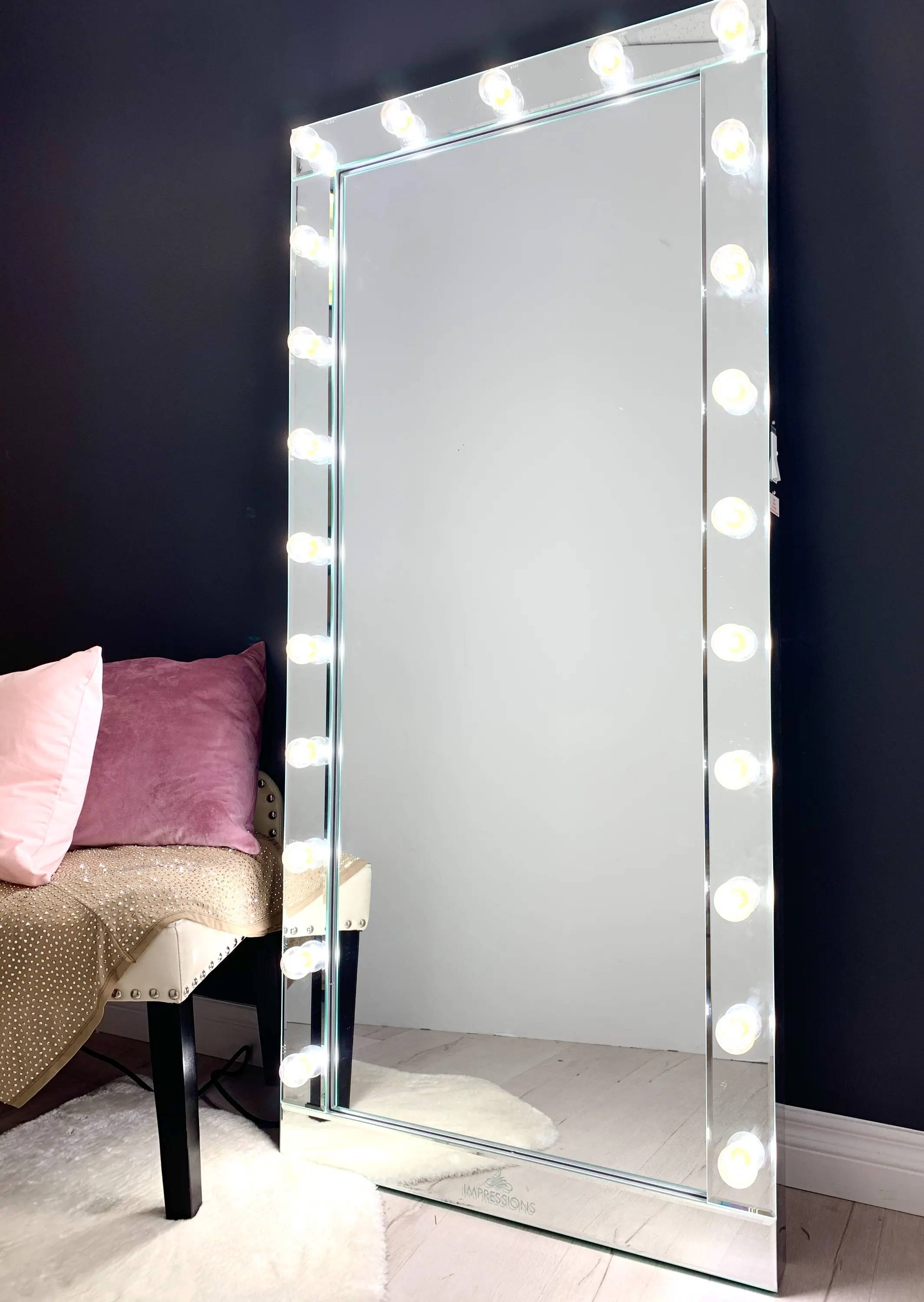 FOR THE GAL
WHO HAS SOPHISTICATED TASTE:
Diamonds, Pearls, and Slaystation Bundles are a girl's best friend! Sophisticated and exquisite taste?
Treat the luxe queen in you to the finer things in life with this elegant glass table top and extraordinary
mirrored drawer bundle.
For the Gal
Who is a Jetsetter:
Explore the world with the best adventure buddy,
the TouchUp Compact.
Equipped with its slim bifold design and adjustable bright LED lights, soar through the air with hearts in your eyes.
The TouchUp Compact will be one of your travel go-to's.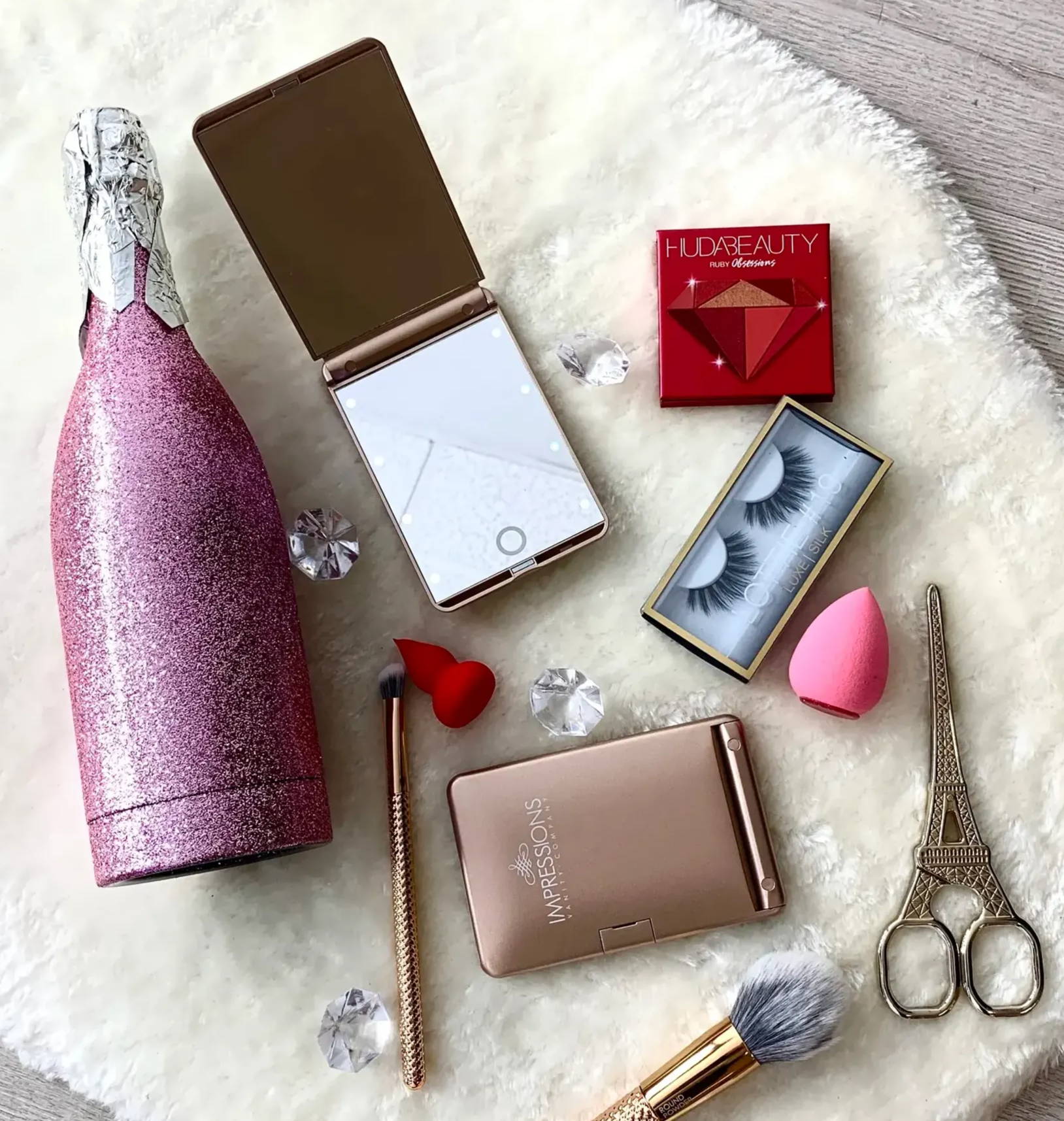 ---
FOREVER AND ALWAYS,
XOXO IMPRESSIONS VANITY