---
INTERVIEW WITH POPSTAR ON THE RISE ALUS

---
Our Impressions Vanity team had the pleasure of sitting down with singer, songwriter, and musician Alus to do a Q&A and Slaystaion makeover together. Her new single "Money Dance" is a magnetic fusion of R&B and melodic drill bound to hit the top of the pop charts. The song is a celebration of her independence and ability to make money on her own terms. Alus is all about empowerment which is why it made sense for our brand to partner with her. Our interview with her can be found on the @ImpressionsVanity Instagram videos tab. Alus shares she has been making music since she was born. She now writes, records, and engineers her own music which can be streamed on most platforms.
---
Live Q&A on Instagram
Alus was feautured on our Instagram live for a Q&A. There we got to stream some of Alus' songs such as Money Dance, as well as had the opportunity to chat with her and her fans in the Alus Army. A few insiders Alus shared with us was that she's orginally from Brooklyn but is now living on the West Coast. Her musical inspiration is Mariah Carey. Her favorite performance was a sold out show at the Madison Square Garden which she describes as a surreal moment and huge step in her career. Check out the live stream on @ImpressionsVanity Instagram videos tab.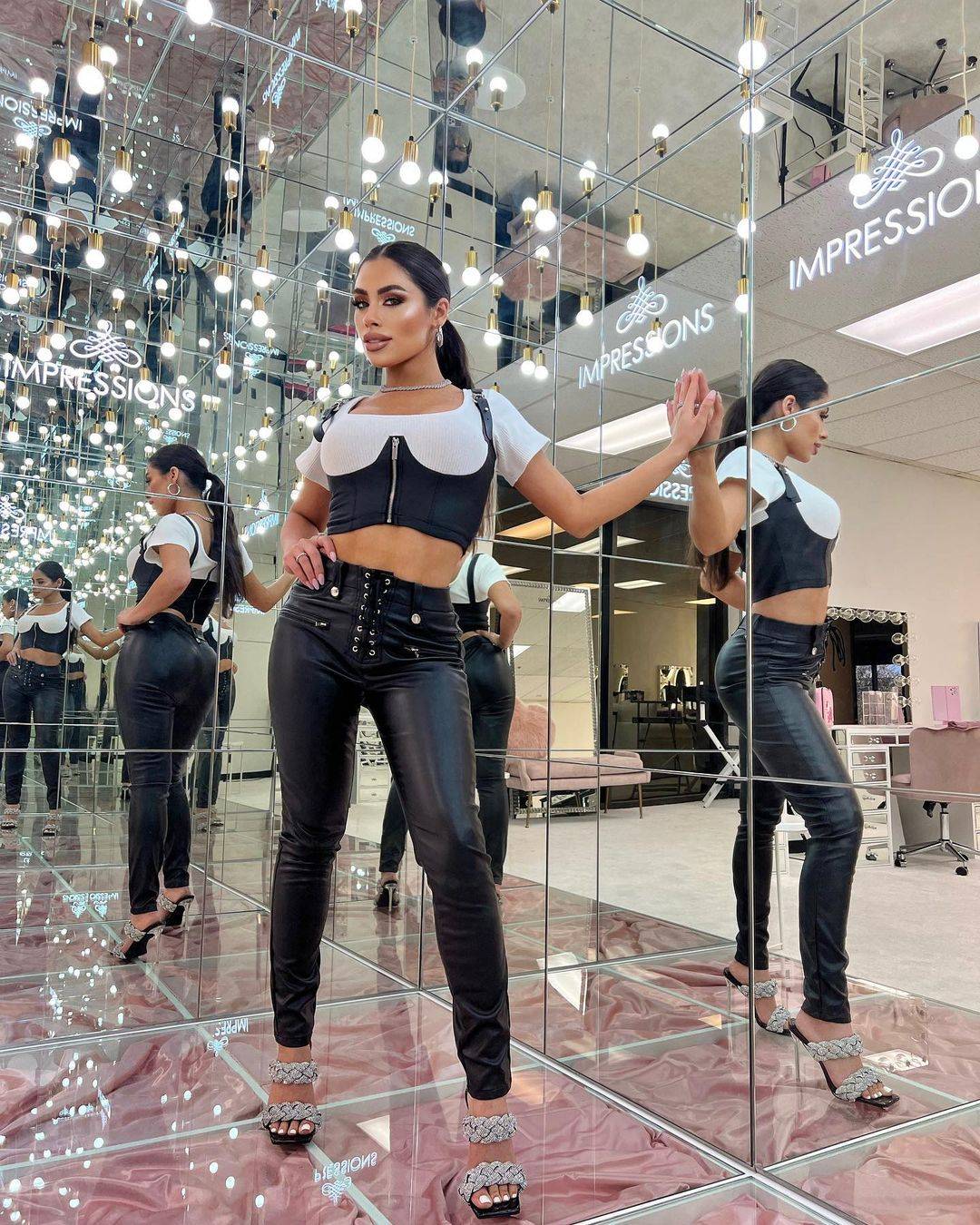 ---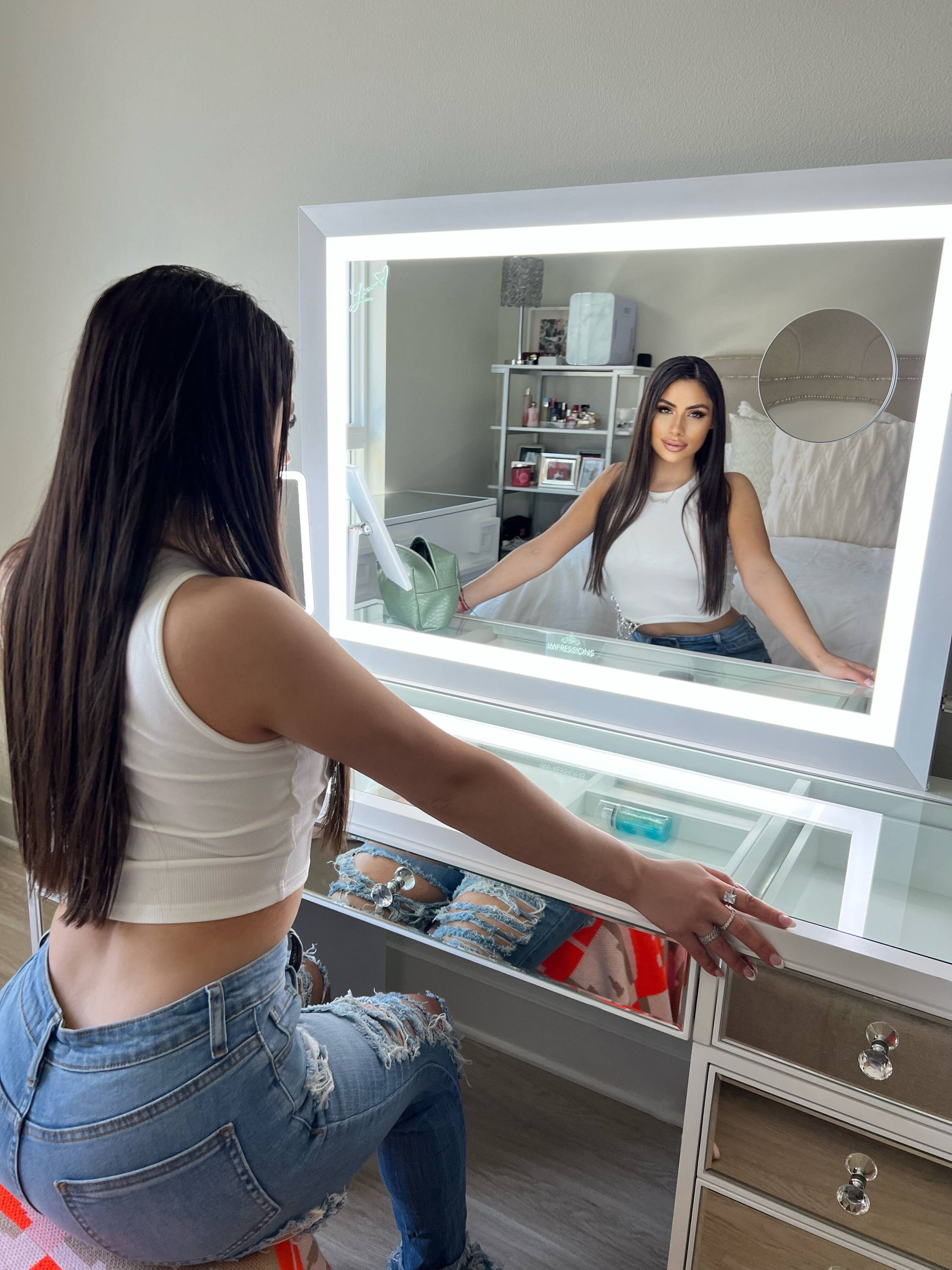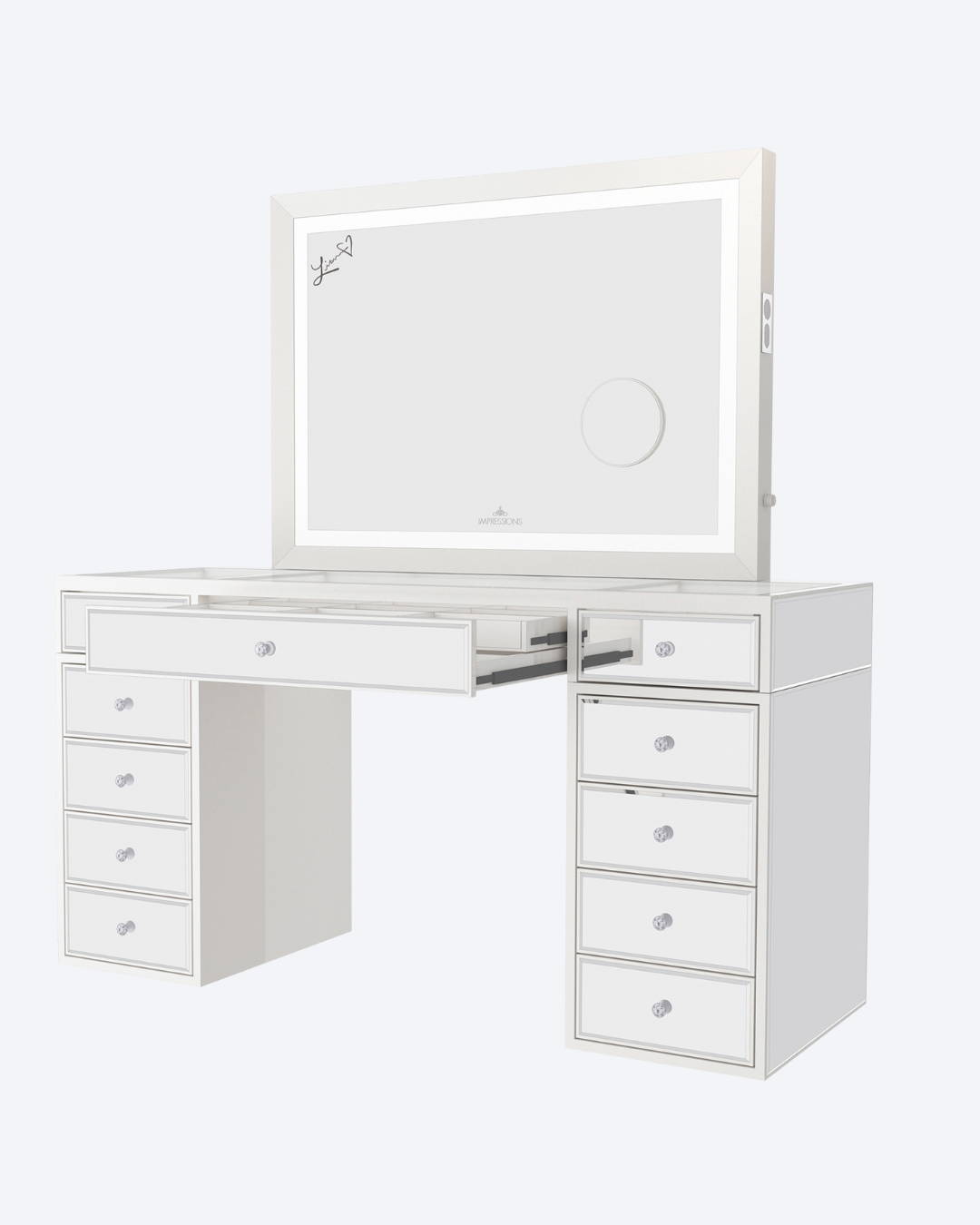 ---
Slaystation Makeover on IGTV
Our Impressions Vanity team had the opportunity to give Alus a slaystaion makeover in her SoCal home. Our team documented the entire makeover on Instagram IGTV, where she shared with us her beautiful home as we got to enhance her space with a Slaystation she hand picked. Her Slaystaion of choice was the

Liane V. Slaystation Premium Bundle. An all white premium wooden vanity table with mirrored drawers and an ultra bright LED lightstrip mirror with high definition bluetooth speakers.
TRAVEL ESSENTIALS
Alus' favorite makeup bag to travel with is our C'est La Vie Makeup Case with Adjustable Dividers. In our Q&A with Alus she mentions how she has taken this bag on multiple trips because of the way the bag protects all of her favorite makeup for worry-free travel. Her favorite makeup items she keeps in this bag are Nars "orgasm" blush, and the Giorgio Armani luminous silk foundation. Her go-to travel mirror is the Touch Pad 2.0 Rechargable LED Makeup Mirror with Flip Cover. This mirror is big enough to set on a table for full face makeup application, supported by a bright LED strip light surrounding the mirror. The slim compact shape is small enough to throw into any travel bag making it a travel essential.
EVERYDAY ESSENTIALS
Sitting on Alus' vanity table is the

Royale Petite Makeup Mirror

. She metioned she uses this for up close makeup application. Definitely using it to apply her favorite Dior Backstage face & body primer. As well as the Coco Compact Mirror which is a large compact mirror, perfect for touching up the entire face on the go. The lights surronding the mirror make it perfect for day to night makeup re-application. Perfect for throwing in your everyday purse. Check out WWW.IMPRESSIONSVANITY.COM to shop all of Alus' favorite Impressions Vanity products.
---
For more details on these products, and all other vanity essentials, visit us at www.ImpressionsVanity.com.
To stay up-to-date with Impressions Vanity, make sure to stay tuned at The Vanity Blog and follow us @impressionsvanity.
---