---
RED CARPET GLAM AT THE 2021 GRAMMY'S WITH NOAH CYRUS AND DAVID VELASQUEZ
---
We had the pleasure of working with LA-based makeup artist and industry veteran, David Velasquez — known for his bold, creative work and impeccable celebrity glam. He started his career at 16 years old apprenticing for Priscilla Ono, makeup artist to Rihanna and Global Makeup Artist for Fenty Beauty.
David has collaborated with some of the biggest names in music and entertainment, on high-profile music videos and fashion campaigns and is key makeup artist to J.Lo, and former key makeup artist to Doja Cat. Among his clients are Saweetie, Ashanti, Blac Chyna, Dani Leigh, Chanel West Coast and more.  
---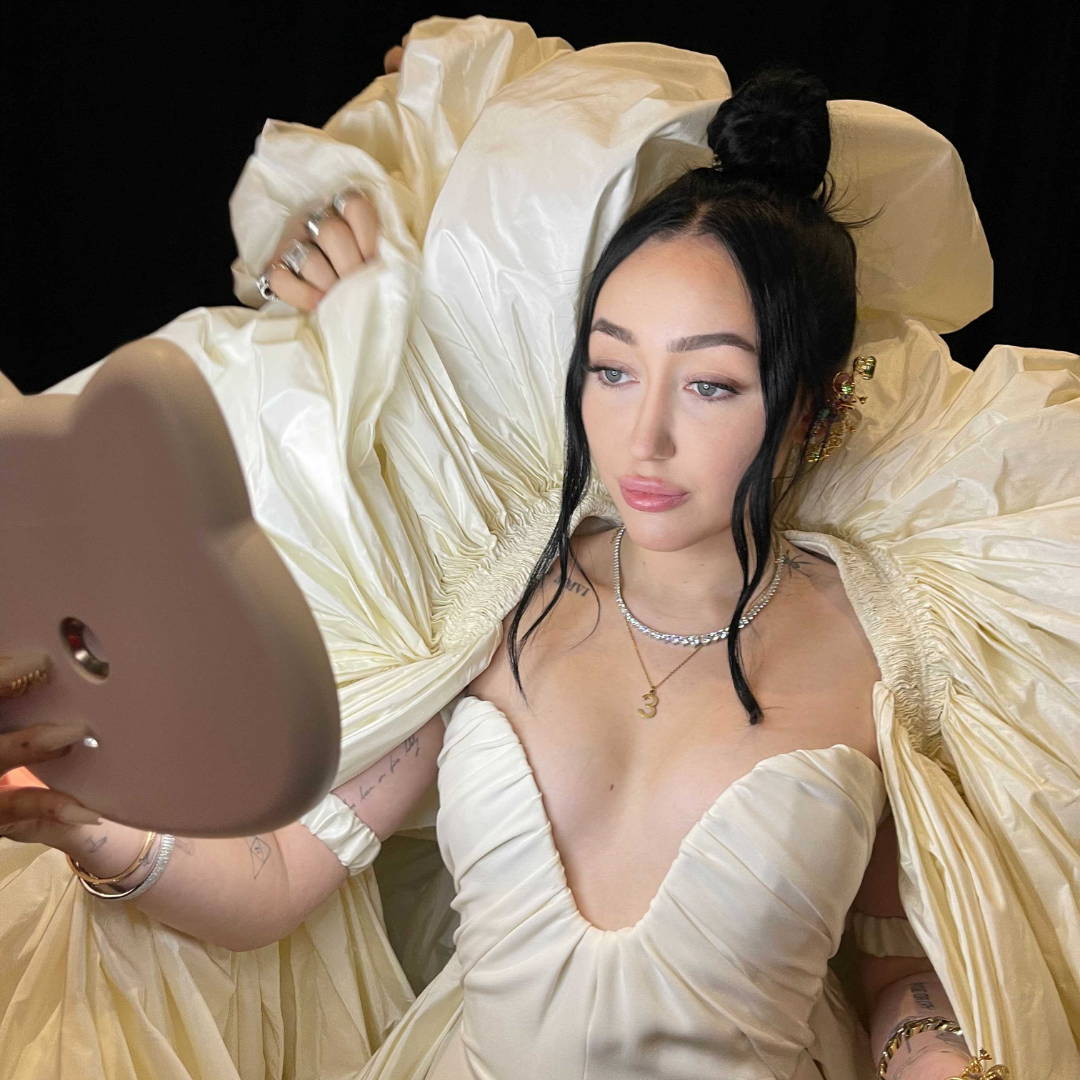 His most recent work includes creating Noah Cyrus' angelic makeup for the 2021 Grammys. David drew inspiration from Noah's red carpet look, she wore a white Schiaparelli dress from their 2021 couture collection. The 21-year-old singer was nominated for Best New Artist as a first-time nominee.
We partnered with David to provide the glam tools needed to get Noah ready for her red carpet appearance. We were able to help create a classic Hollywood makeup studio backstage at the awards. Our glamourous Hollywood Premiere Slim Pro Vanity Mirror provided the perfect lighting ideal for makeup application and superior mirror reflection clarity.  
One of the highlights of Noah's glam session was when she checked her makeup right before walking the red carpet with our Hello Kitty LED Rechargeable Mirror! The Hello Kitty silhouette is outlined with an ultra-bright LED strip light. The mirror is easily detachable for on the go use.
---
Check out our exclusive interview with David where he talks about the getting ready process with Noah Cyrus for the Grammys:
Q: What are your essential, must-have Impressions Vanity products?
A: "Honey, if you're a glam girl you gotta get an Impressions Vanity setup for your house, for your studio… anywhere! You have to have an Impressions Vanity of course."
Q: What Impressions Vanity products did you use to achieve this look and how was it beneficial?
A: "You guys know I'm obsessed with my Hello Kitty Impressions mirror with the LED lights around it! It's my go to, it's a must have. It just helps me and my clients on set, I travel with it everywhere."
Q: We loved Noah Cyrus' Grammys red carpet look, what was the inspiration behind her makeup look? How long did the process take to achieve this look?
A: "Our inspiration for Noah Cyrus' Grammys look was very angelic, effortlessly done since the dress was over the top. We wanted to just have the focus on the dress. The makeup and hair was kind of simple but classic. Well we had a lot of time to get ready because we didn't want to rush so we had 3 hours to glam but the actual process of us glamming was about an hour."
Q: How would you describe this look compared to her everyday makeup?
A: "This is kind of her everyday makeup. She likes a snatched eye, natural lashes, just a natural lip. This is like her daily look so it didn't really change from what we normally do. But I want to create some dope looks with her so hopefully in the future she is more open to different looks so I'm excited for that."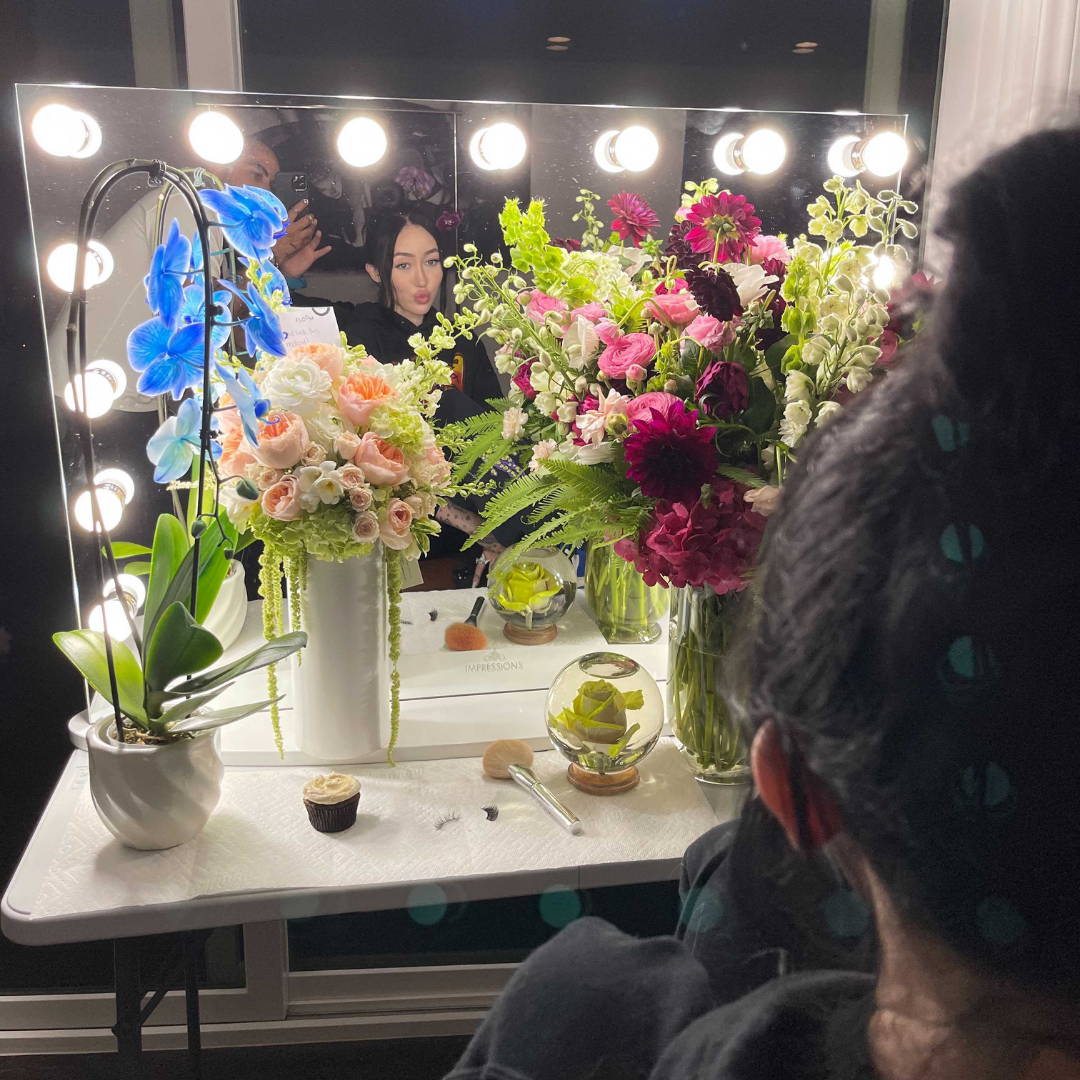 Q: When doing Noah's makeup, did she share her thoughts or feelings about being nominated for a first time Grammy?
A: Noah Cyrus was so excited about her nomination and she is only 21 years old and she's already nominated for a Grammy for best new artist. That's amazing! She was just super excited and I was so happy for her. She talked to her dad while we were in glam. He gave her some pointers. So that was amazing to see the connection that they have through music.
---
For more details on the stunning Premiere Slim Pro Vanity Mirror, Hello Kitty Mirror and other mirrors, tables, and vanity essentials, visit www.impressionsvanity.com.
To stay up-to-date on this and other future events, make sure to follow The Vanity Blog and @impressionsvanity.
---